19 June, 2015
Mustard rabbit (lapin a la moutarde)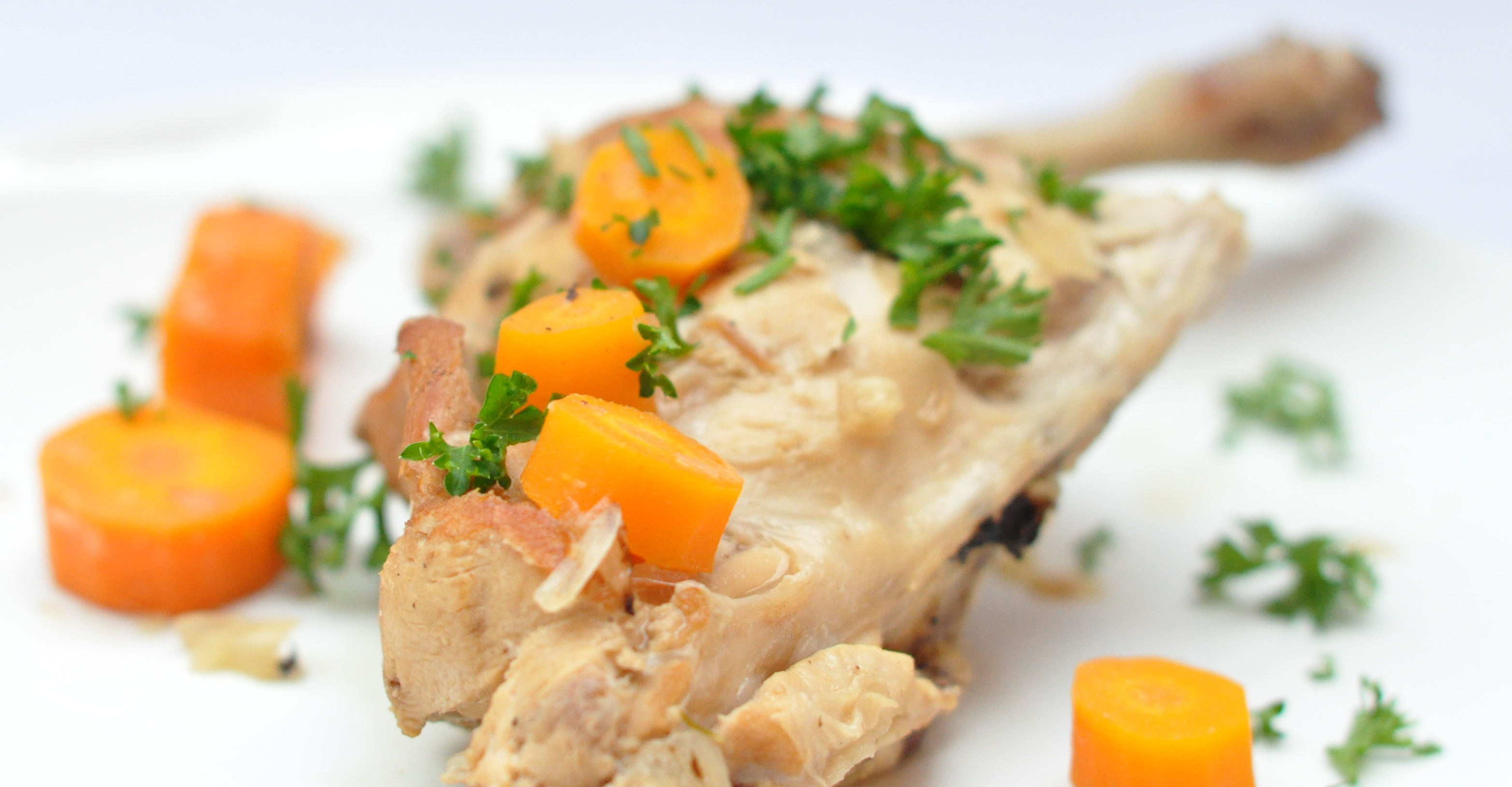 Posted in :
Main Dish
on
by :
Maya
Tags:
rabbit
,
shallots
,
white wine
This post is for my great friend Marta. She asked me to cook this for her because she has some friends over and she wants to serve something good, but somehow lately nothing she cooks turns out well. I don't believe it, I think she just doesn't appreciate the every day cooking she does. But cooking the rabbit for her (and her friends), was a good excuse to have her at my place for the whole evening, while sipping wine and chatting. Plus she chopped the shallots 🙂
This recipe is very easy and very, very good. Especially with gnocchi. The sauce is just wonderful with gnocchi. Maybe even better than the rabbit itself. So I told her about it some time ago and she tried and it didn't turn out well. Her husband doubted that this recipe is any good. Then he had it at my place and he changed his mind :-). So I was cooking it today kind of like a cooking class. And when I poured the wine in, she realized what she did wrong. Her rabbit literally drowned in the wine. She just filled out her pot with wine, so there was so much that it never became a sauce… So beware, don't put too much wine, just what is in the recipe. And if you have too much wine, pour yourself a glass and enjoy it as apero while the rabbit is simmering.
.
Rabbit in white wine sauce
Ingredients
1 rabbit, cut into 6-8 pieces
500ml dry, white wine
Dijon mustard
olive oil
2 cloves garlic, chopped
5 shallots, chopped
2 bay leaves
a twig of fresh thyme
2 tsp sugar
2-3 carrots (or more, rabbit likes carrots)
fresh parsley
salt, pepper
Instructions
Paint the rabbit with mustard, use your hands, no utensils are required for that.
Cook it a bit on a hot oiled pan, just to make it look brown (or at least parts of it). You may not be able to do all the pieces at one time.
Then cook the shallots and garlic on an oiled pad, until translucent.
Put the rabbit, the shallots and wine in a large pot. The wine will not be covering all the rabbit. If it is, you added too much!
Add bay leaves, thyme, sugar, salt and pepper.
Simmer (in a covered pot) for 40 minutes to one hour, stir it from time to time to make sure all the pieces spend some time in the wine.
If you started with a full bottle of wine and you have some left, this is the time to sip your glass while smelling the wonderful aroma...
Add carrots and cook for another 10-15 minutes. Cook it uncovered if the sauce looks too liquid.
Serve with fresh parsley. It works really well with gnocchi.
© 2023 © www.maya-cooks.com
If you have any gnocchi and sauce left over, put it in one container and let the sauce soak in the gnocchi over night. Karl says it's best that way.