17 July, 2015
Raspberry cheesecake
Comments : 2 Posted in :
Dessert
on
by :
Maya
Tags:
cheesecake
,
mascarpone
,
meringue
,
raspberries
This is not as hard as it looks. It's true that I make it rather for special occasions, but really last time I prepared it during my children's computer class, and I was on time to pick them up on time. So that means barely more than an hour. Just make sure to read the recipe in detail before you start, so that you would understand what the steps are.
It's fresh and raspberry and cold, a perfect summer dessert!
Raspberry cheesecake
Ingredients
250g frozen raspberries, defrosted.
70g almonds, chopped
75g meringues, crushed
125 white chocolate
10g coconut oil
3 spoons gelatine
1 spoon + 75 sugar
600g mascarpone
200g whipping cream
Fresh raspberries for decoration
Instructions
Chocolate meringue base
Cover a baking pan (20cm diameter) with oil or with baking paper.
Fry the almonds on a pan without any grease.
Heat the white chocolate with coconut oil on low heat. Let it chill a little.
Add the almonds and 45g crushed meringues to the chocolate and mix it delicately.
Place on a baking pan and put it in the fridge for 30 minutes.
Preparing the topping
Place the mascarpone in a bowl, add 75g sugar, mix it well.
Place the raspberries in a sieve over another bowl. Squeeze them through as well as you can. You will end up with liquid in the bowl and more solid stuff in the sieve. Add the solid stuff to the bowl and 1 spoon of sugar. Stir it just to dissolve the sugar (more or less)
Take 1/3 of mascarpone-sugar mixture and blend with raspberry mix.
At this point you will have 2 bowls one with white mascarpone mix and one with mascarpone raspberry mix.
Place half the gelatine with 2 tbs of cold water, when it becomes solid heat it up to dissolve it.
Add it to the white mascarpone mix and work it quickly with a mixer to distribute it well in the batter.
Take the other half of gelatine, add 2 tbs of cold water and when it becomes solid heat it up to dissolve it, then add to the raspberry mix quickly and work it quickly with a mixer to distribute it well in the batter.
Place both bowls in the fridge.
Whisk the cream until stiff. Place half in raspberry mix and half in white mascarpone mix and mix it in well.
Building the cake
Put a layer of white mix on the chocolate meringue base, then the raspberry mix then and white and raspberry again.
Place in the fridge for 4 hours.
Just before serving decorate with remaining meringues and fresh raspberries.
© 2023 © www.maya-cooks.com
And here a few pictures showing step by step how it looks.
Meringues with almonds:
Chocolate-meringue base:
Preparing the raspberry pulp: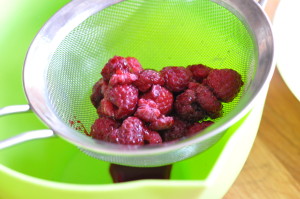 Mascarpone with sugar
Mascarpone with raspberries:
Mascarpone with gelatine:

Building the cake
2s COMMENTS