30 September, 2018
Celery sorbet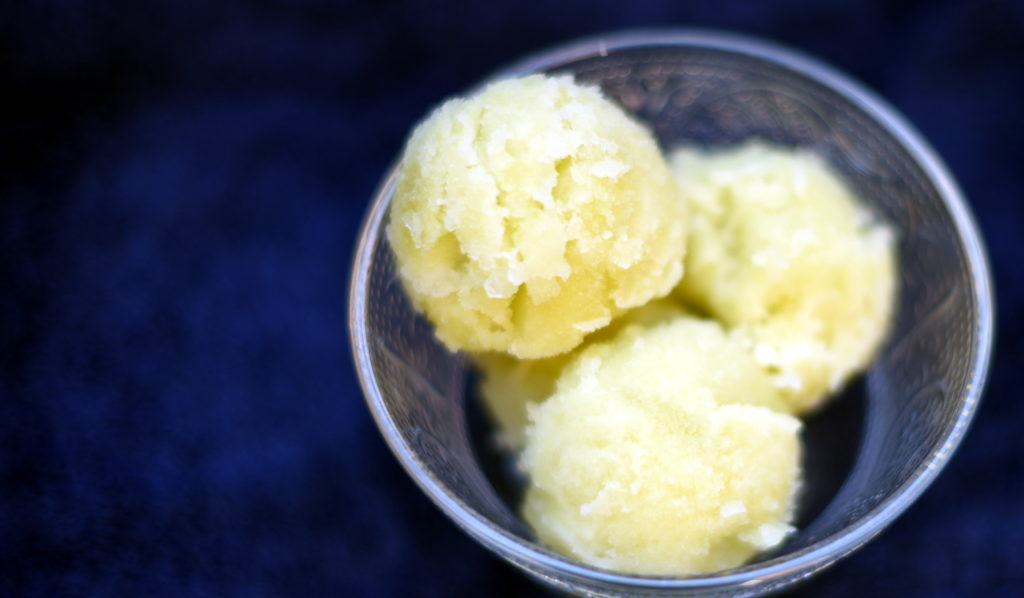 Posted in :
Amuse-bouche
,
Dessert
,
Sweets
,
Vegan
on
by :
Maya
Tags:
celery
,
simple syrup
That is a the most surprising thing I ate (and liked) this summer. It was served on a very hot day in a cold soup and it was brilliant. Celery has wonderfully refreshing taste which works very well with sugar.  I would have never thought of that, but it was there, on my plate, so I tried and loved it! To my surprise even my children like it! And they are picky.
So there you go, try this as an amuse bouche or desert, by itself or in a cold soup, for example in the watermelon gazpacho. Enjoy!
You will need an ice cream machine to make it though, I bought one just for this and am now planning other surprising flavors.
Celery sorbet
Ingredients
1 cup (200g) white sugar
1 cup (250m) cold water
1 lime
500g celery
1 pinch salt
Instructions
Combine water and sugar in a pot, place it on low heat until the sugar dissolves. You just made simple syrup! Let it cool down.
Throw away the leaves from the celery and cut the celery into small pieces. Place it in a blender.
Add the simple syrup, lime juice and salt. Blend until smooth.
Press this mix through a very fine strainer. A lot will stay on the strainer, that's ok.
Place the juice in the fridge for at least one hour.
Then pour it into your icecream maker and follow the manufacturer's instructions.
© 2023 © www.maya-cooks.com