12 May, 2019
Party peas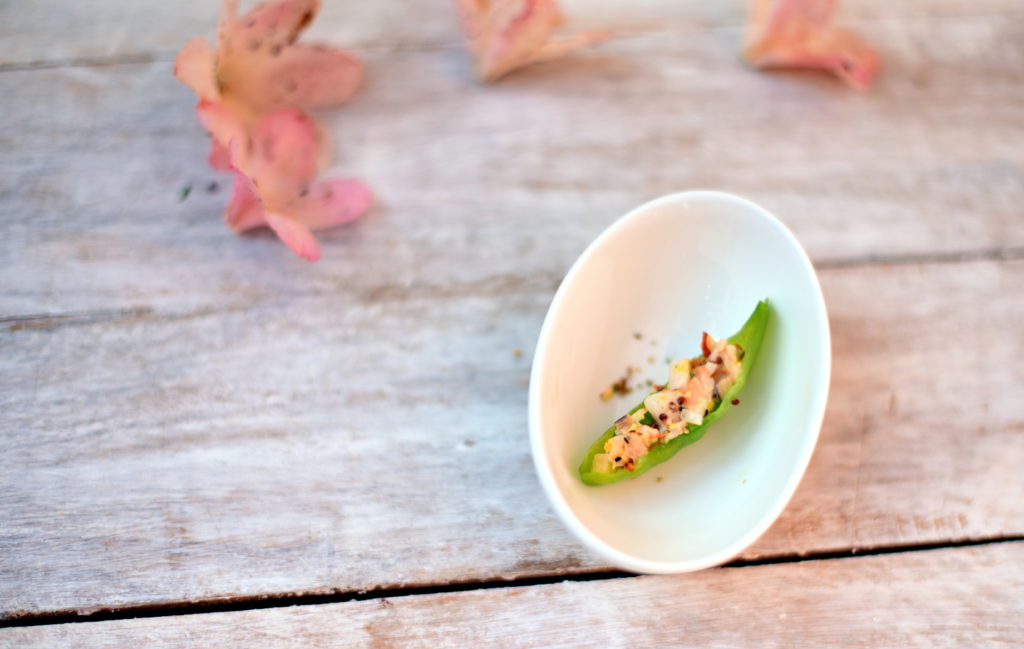 Posted in :
Amuse-bouche
on
by :
Maya
Tags:
apple
,
ham
,
onion
,
parsley
,
shrimp
,
snow peas
It's an elegant snack to serve before the party, just to tease the mouth, or as the French say 'amuse bouche'. It does take some time to prepare each one, but it is worth it. And it as example of what I like to cook best. These little snacks, just one bite at a time, exploding with flavor and texture.

Party peas
Ingredients
a dozen of snow peas
4-5 cooked shrimp
1 table spoon fresh parsley
1 table spoon mayonnaise
2 tea spoons chopped shallots
1 table spoon chopped apple
1 tea spoon mustard with entire mustard seeds
Salt, pepper to taste
Sriracha sauce (optional)
Instructions
Boil some water in a pot and throw the snow peas on it.
Let them boil for 4-5 minutes.
Dump it all out and run cold water over it to cook it down.
Chop all the ingredients very finely and mix them up.
Cut an edge of each green peas (just 1 mm, to open it up).
Carefully fill in each snow peas.
Sprinkle some pepper on top and serve!
© 2022 © www.maya-cooks.com